Resourceful Revival
Homes Updated with Appreciation for the Past
Written by Maresa Giovannini
When it comes to home construction, land, materials, and time are all considerable limitations. It can be best to start with a good, existing home as a foundation and make it your own with care. A remodel affords you the opportunity to take your time with updates or tackle a complete overhaul before move-in.
Any island home is a piece of paradise, but some have seen better days. Invest in a fixer-upper that has classic architectural details and could use some TLC. Sometimes, all it takes is a coat of paint and new cabinetry, while other updates require a complete gut, building permits, and new systems. If the idea of a renovation adventure excites you, and you're prepared for the time and potential for unexpected expenses, dive in. The risk is worth the potential reward.
From the simple customizations to complex installations, any remodel detail can make a dream come true….
Although pocket doors for indoor-outdoor living aren't out of the ordinary in Hawaii, consider installing them in your bedroom so you can lounge with uninterrupted views of the sunrise or sunset. If your dream lifestyle is more active than passive, consider adding on a yoga studio or a personal putting green in your backyard so you'll always be at the top of your game.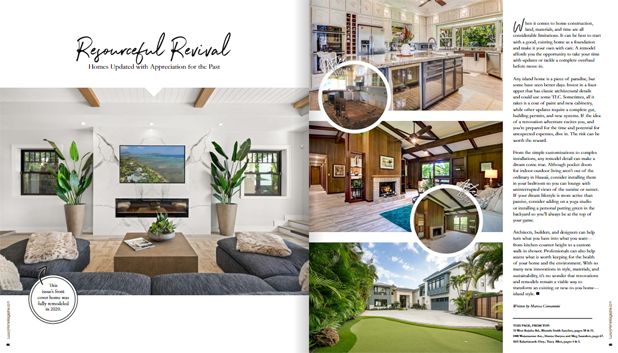 Read Article In Luxury Home Magazine
Architects, builders, and designers can help turn what you have into what you want—from the height of your kitchen counters to a custom walk-in shower. Professionals can also help assess what is worth keeping for the health of your home and the environment. With so many new innovations in style, materials, and sustainability, it's no wonder that renovations and remodels remain a viable way to transform an existing or new-to-you home—island style.