Branching Out
Written by Maresa Giovannini
Textures, colors, and finishes have ever-changing front-runners when it comes to home design and decor. One thing that never goes out of style? Wood. The timeless, natural material has been spotlighted for centuries, creating family heirlooms and inviting interiors to be enjoyed for generations. Here, some ways to introduce and mix woods in your home, today.
If you gravitate toward sleek, modern design, turn to thin, horizontal slats for privacy fencing, room dividers, or feature walls. Using wood to create a dramatic feature wall in your home is a neutral way to warm up all-white style. For neutral and understated installations, look up. Wood-panel ceilings or wood beams can make a vaulted great room feel cozy. Alternatively, carved ceiling installations, doors, and posts, provide a grand introduction and are a feast for the eyes.
It can be daunting to combine a variety of wood tones, but it is just that variation that will make your home design effective yet effortless. Warm teak, gray driftwood, and light bamboo all offer neutral tones that can be mixed and matched with a modern color palette. For adjustments, consider stain to bring out the lost beauty in reclaimed wood.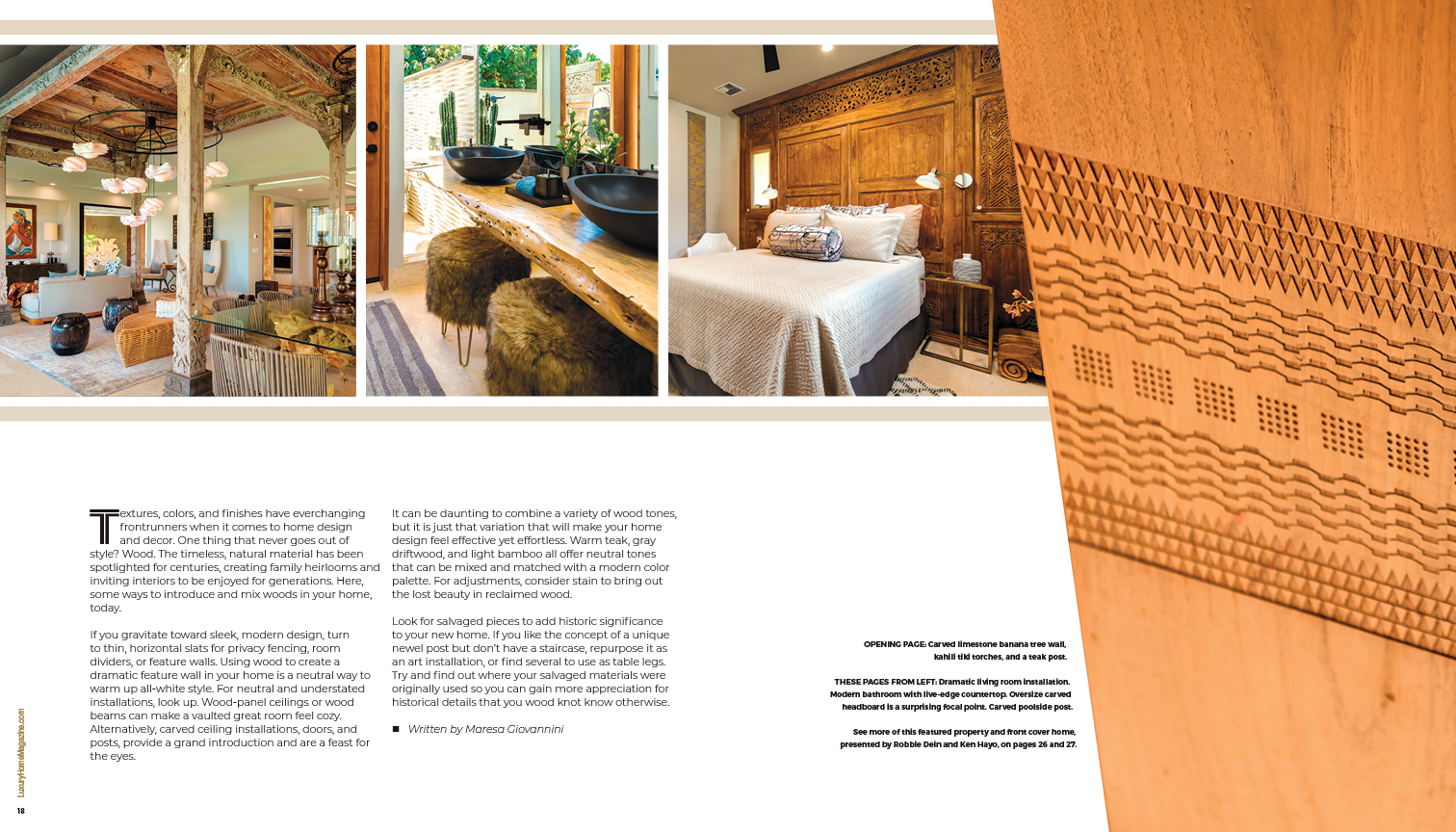 Read Article In Luxury Home Magazine
Look for salvaged pieces to add historic significance to your new home. If you like the concept of a unique newel post but don't have a staircase, repurpose it as an art installation, or source several to use as table legs. Try to fi nd out where your salvaged materials were originally used so you can gain more appreciation for historical details that you wood knot know otherwise.