Artful Outdoors
Written by Maresa Giovannini
When you live in Hawaii, the outdoor spaces of your home function as usable square footage all year round. Don't sleep on the opportunity to highlight the natural island beauty by creating artful exterior spaces. Whether with hardscaping, natural finishes, lush plantings, or high-end art pieces, there are plenty of ways to make the outside spaces of your home just as personal as the inside.
Start by assessing the site. Does it benefit from a view, privacy, or established landscaping? Select elements that complement the existing terrain rather than compete with it. When planning hardscaping, consider durable stone. Gardens that make use of local lava rock and small and large boulders open the door to countless configurations. Dirt or gravel pathways with custom stepping-stones help create an exterior experience, as do walkways that cross courtyard ponds. A water feature offers a pleasing attraction for the senses. From standalone options to well-designed pool and spa enhancements, running water will give your home oceanfront ambiance regardless of its location.
Is it time to tackle that curb appeal? Detail updates like new address numbers or stained-glass inserts from local artists make eye-catching impressions. Want more of a refresh? Update any railings or add them where needed. Opt for traditional Hawaiiana designs, or go more avant-garde with custom metal solutions. Metal art is perfectly at home in Hawaii. Infuse your exteriors with bronze gates, tiki torches, fi re pits, lights, or sculptures for your garden.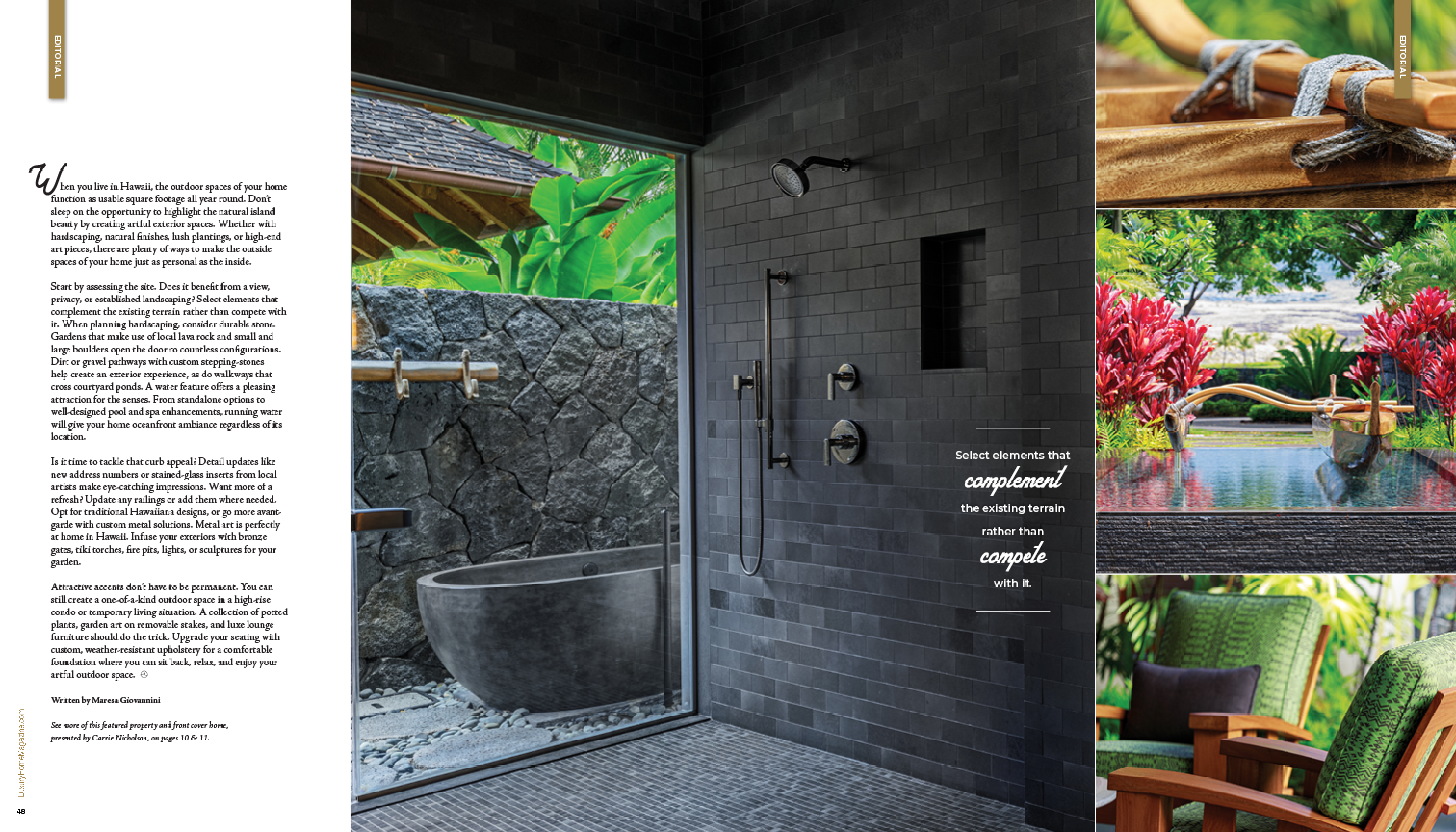 Read Article In Luxury Home Magazine
Attractive accents don't have to be permanent. You can still create a one-of-a-kind outdoor space in a high-rise condo or temporary living situation. A collection of potted plants, garden art on removable stakes, and luxe lounge furniture should do the trick. Upgrade your seating with custom, weather-resistant upholstery for a comfortable foundation where you can sit back, relax, and enjoy your artful outdoor space.