The Suite Life
Written by Maresa Giovannini
They say you shouldn't make a guest room too comfortable or your guests will overstay their welcome. So the opposite must be true for a master suite: make it sublimely comfortable so you will never want to leave. Although a plush bed in the bedroom and double sinks in the bathroom will suffice, there are countless luxurious ways to customize your space – think his-and-hers closets, steam rooms, or seamless panoramic windows. A custom master suite may be simple or extravagant as long as it speaks to you.
Closet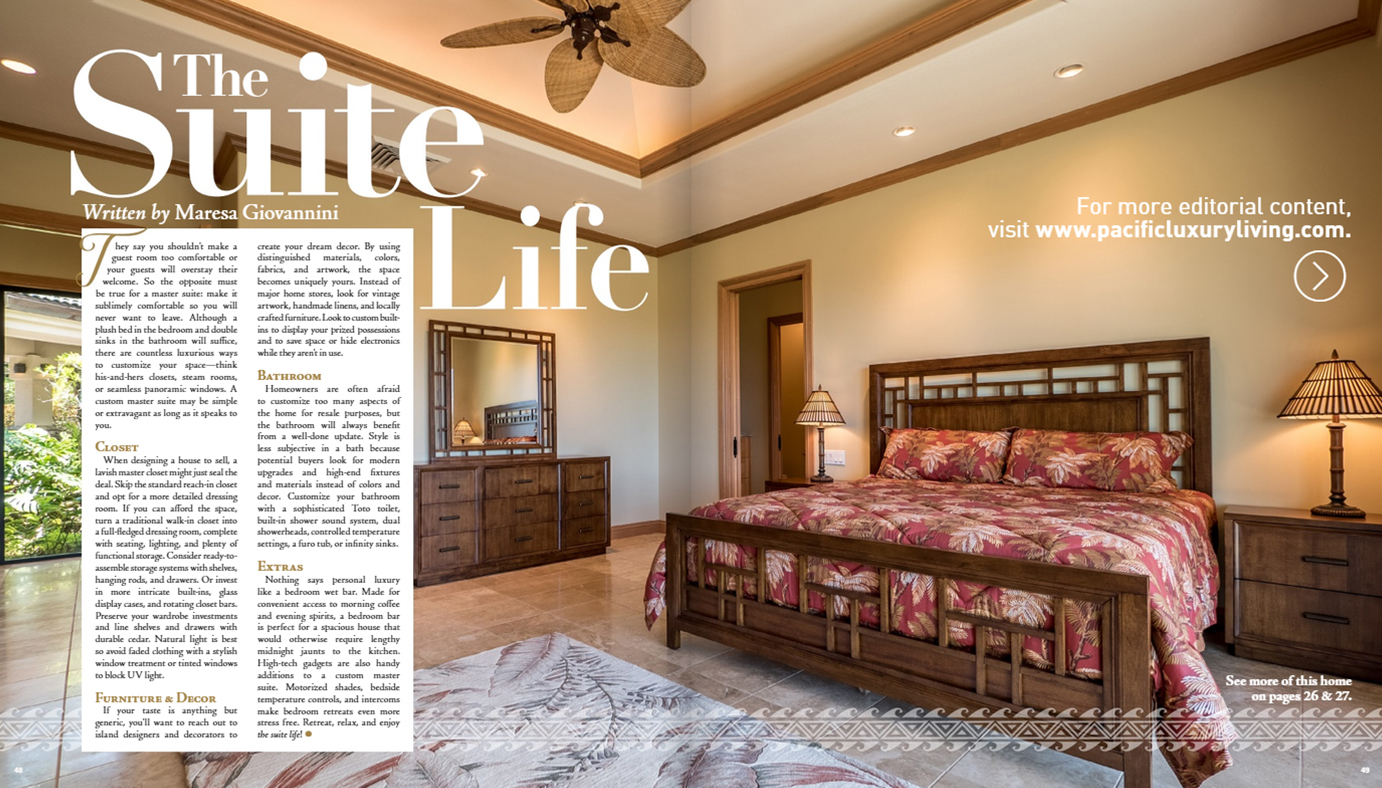 Read Article In Luxury Home Magazine
When designing a house to sell, a lavish master closet might just seal the deal. Skip the standard reach-in closet and opt for a more detailed dressing room. If you can afford the space, turn a traditional walk-in closet into a full-fledged dressing room, complete with seating, lighting, and plenty of functional storage. Consider ready-to-assemble storage systems with shelves, hanging rods, and drawers. Or invest in more intricate built-ins, glass display cases, and rotating closet bars. Preserve your wardrobe investments and line shelves and drawers with durable cedar. Natural light is best so avoid faded clothing with a stylish window treatment or tinted windows to block UV light.
Furniture & Decor
If your taste is anything but generic, you'll want to reach out to island designers and decorators to create your dream decor. By using distinguished materials, colors, fabrics, and artwork, the space becomes uniquely yours. Instead of major home stores, look for vintage artwork, handmade linens, and locally crafted furniture. Look to custom built-ins to display your prized possessions and to save space or hide electronics while they aren't in use.
Bathroom
Homeowners are often afraid to customize too many aspects of the home for resale purposes, but the bathroom will always benefit from a well-done update. Style is less subjective in a bath because potential buyers look for modern upgrades and high-end fixtures and materials instead of colors and decor. Customize your bathroom with a sophisticated Toto toilet, built-in shower sound system, dual showerheads, controlled temperature settings, a furo tub, or infinity sinks.
Extras
Nothing says personal luxury like a bedroom wet bar. Made for convenient access to morning coffee and evening spirits, a bedroom bar is perfect for a spacious house that would otherwise require lengthy midnight jaunts to the kitchen. High-tech gadgets are also handy additions to a custom master suite. Motorized shades, bedside temperature controls, and intercoms make bedroom retreats even more stress free. etreat, relax, and enjoy the suite life.