The Lap of Luxury
By Maresa Giovannini
The ocean is great for so many reasons, but sometimes you just want a pool of pristine water brought to your ideal temperature. Consider the following types of pools when creating your own backyard oasis. Natural pools offer a nod to nature's own creations, and can blend with the surroundings or stand out as a whimsical lagoon where mermaids could be lounging. They are established with a freeform shape that could be meant to mimic a specific body of water, or simply to have a more fluid space. Materials such as stone or simulated rock are used to border or create caves, grottos, and tanning or diving ledges. One of the most stunning accessories for a natural pool is a water feature. This could be a fountain, waterfall, smaller pool for show, or even a water slide. For waterfalls, position rocks appropriately to create a spillway from an elevated pool or spa into a lower pool.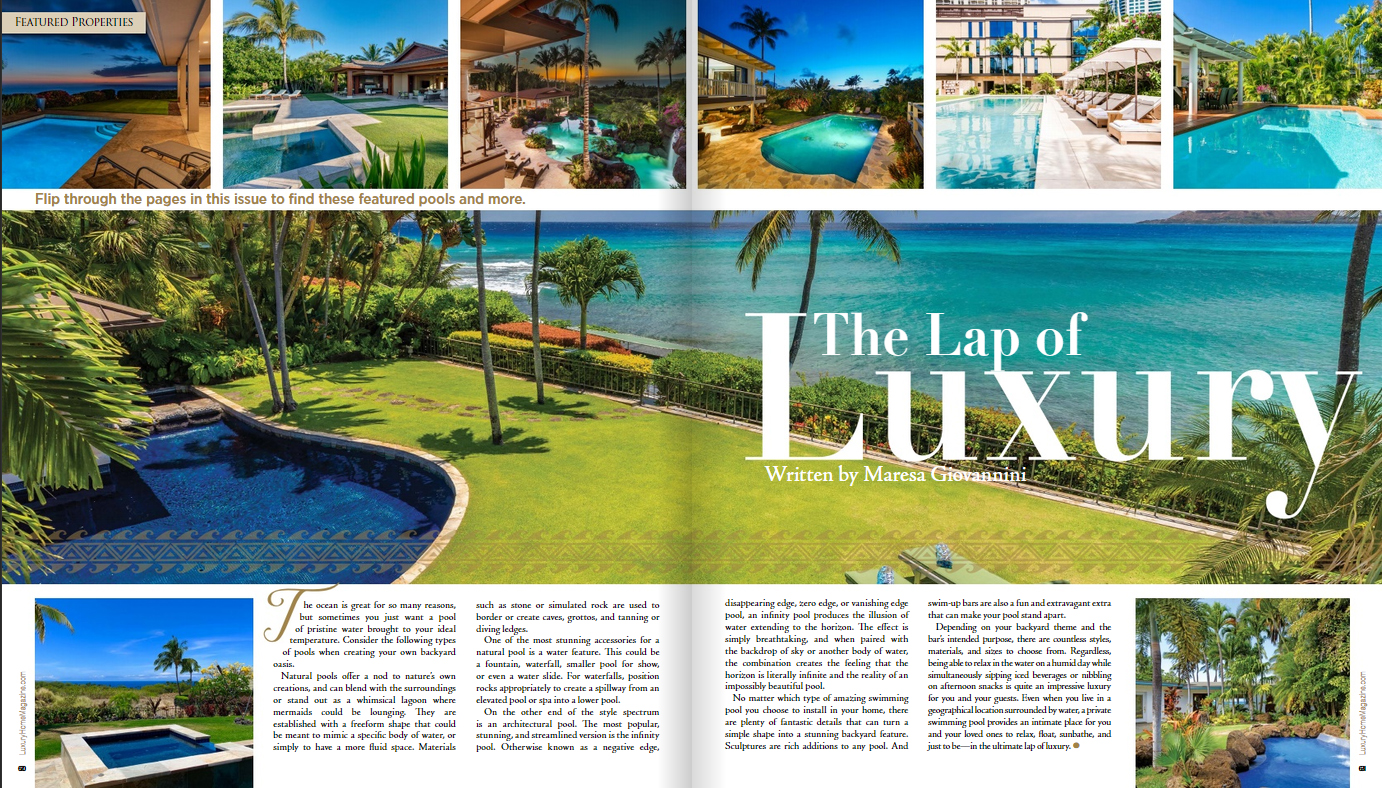 Read Article In Luxury Home Magazine
On the other end of the style spectrum is an architectural pool. The most popular, stunning, and streamlined version is the infinity pool. Otherwise known as a negative edge, disappearing edge, zero edge, or vanishing edge pool, an infinity pool produces the illusion of water extending to the horizon. The effect is simply breathtaking, and when paired with the backdrop of sky or another body of water, the combination creates the feeling that the horizon is literally infinite and the reality of an impossibly beautiful pool. No matter which type of amazing swimming pool you choose to install in your home, there are plenty of fantastic details that can turn a simple shape into a stunning backyard feature.
Sculptures are rich additions to any pool. And swim-up bars are also a fun and extravagant extra that can make your pool stand apart. Depending on your backyard theme and the bar's intended purpose, there are countless styles, materials, and sizes to choose from. Regardless, being able to relax in the water on a humid day while simultaneously sipping iced beverages or nibbling on afternoon snacks is quite an impressive luxury for you and your guests. Even when you live in a geographical location surrounded by water, a private swimming pool provides an intimate place for you and your loved ones to relax, float, sunbathe, and just to be—in the ultimate lap of luxury.