Simply Sustainable
Written by Maresa Giovannini
Sustainability is no longer just a buzzword—it is the reality. Equipping your home with materials and systems to support sustainability for the long run is a true luxury.
Whether you are a committed environmentalist, a regular recycler, or simply want to lower your electric bill, every bit of action helps to create a sustainable society. With evolving technology and new comprehension of our existing practices and products, it can be challenging to keep up. If you are looking for a place to start, don't forget the timeless motto: reduce, reuse, recycle. Then, consider using products and materials that last longer and create less waste from the beginning. Simply put, those contributions that make a substantial impact should be sustainable. The easiest way to make sustainable structures for the future is to start from the beginning and create lasting, efficient homes and commercial buildings.
The U.S. Green Building Council's LEED® (Leadership in Energy and Environmental Design) program is still a measurable tool for sustainable building. Builders, architects, and other industry professionals undergo extensive and rigorous training to obtain their LEED® certifications. When a professional is certified you can guarantee that he or she fully understands the thinking behind the organization and the regulations that it enforces. There are varying degrees of LEED® certification both for the professionals and the buildings.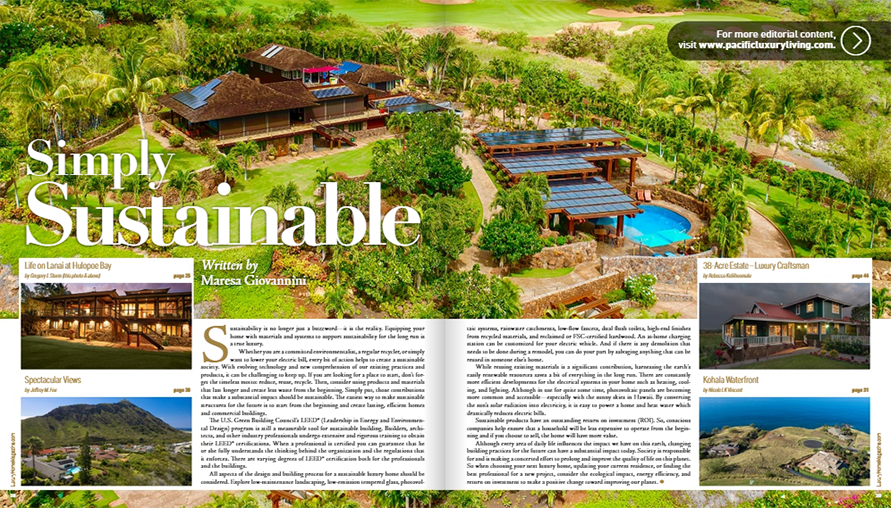 Read Article In Luxury Home Magazine
All aspects of the design and building process for a sustainable luxury home should be considered. Explore low-maintenance landscaping, low-emission tempered glass, photovoltaic systems, rainwater catchments, low-flow faucets, dual flush toilets, high-end finishes from recycled materials, and reclaimed or FSC-certified hardwood. An at-home charging station can be customized for your electric vehicle. And if there is any demolition that needs to be done during a remodel, you can do your part by salvaging anything that can be reused in someone else's home.
While reusing existing materials is a significant contribution, harnessing the earth's easily renewable resources saves a bit of everything in the long run. There are constantly more efficient developments for the electrical systems in your home such as heating, cooling, and lighting. Although in use for quite some time, photovoltaic panels are becoming more common and accessible—especially with the sunny skies in Hawaii. By converting the sun's solar radiation into electricity, it is easy to power a home and heat water which drastically reduces electric bills.
Sustainable products have an outstanding return on investment (ROI). So, conscious companies help ensure that a household will be less expensive to operate from the beginning and if you choose to sell, the home will have more value.
Although every area of daily life influences the impact we have on this earth, changing building practices for the future can have a substantial impact today. Society is responsible for and is making a concerted effort to prolong and improve the quality of life on this planet. So when choosing your next luxury home, updating your current residence, or finding the best professional for a new project, consider the ecological impact, energy efficiency, and return on investment to make a positive change toward improving our planet.