Kitchens: A Recipe For Your Luxury Cookspace
Written by Maresa Giovannini
When purchasing a new home or remodeling your current residence, your kitchen should be one of your most significant considerations. Other rooms can benefit from a coat of paint, new furniture or updated window treatments. But the style, efficiency, and character of a kitchen makes it one of the most desirable places in a luxury home. The kitchen attracts all types of home buyers, from those who have mastered the home cooked-meal to those who employed a personal chef. Regardless of your talent of interest, an efficient and enjoyable kitchen will simplify your life and create a welcoming home.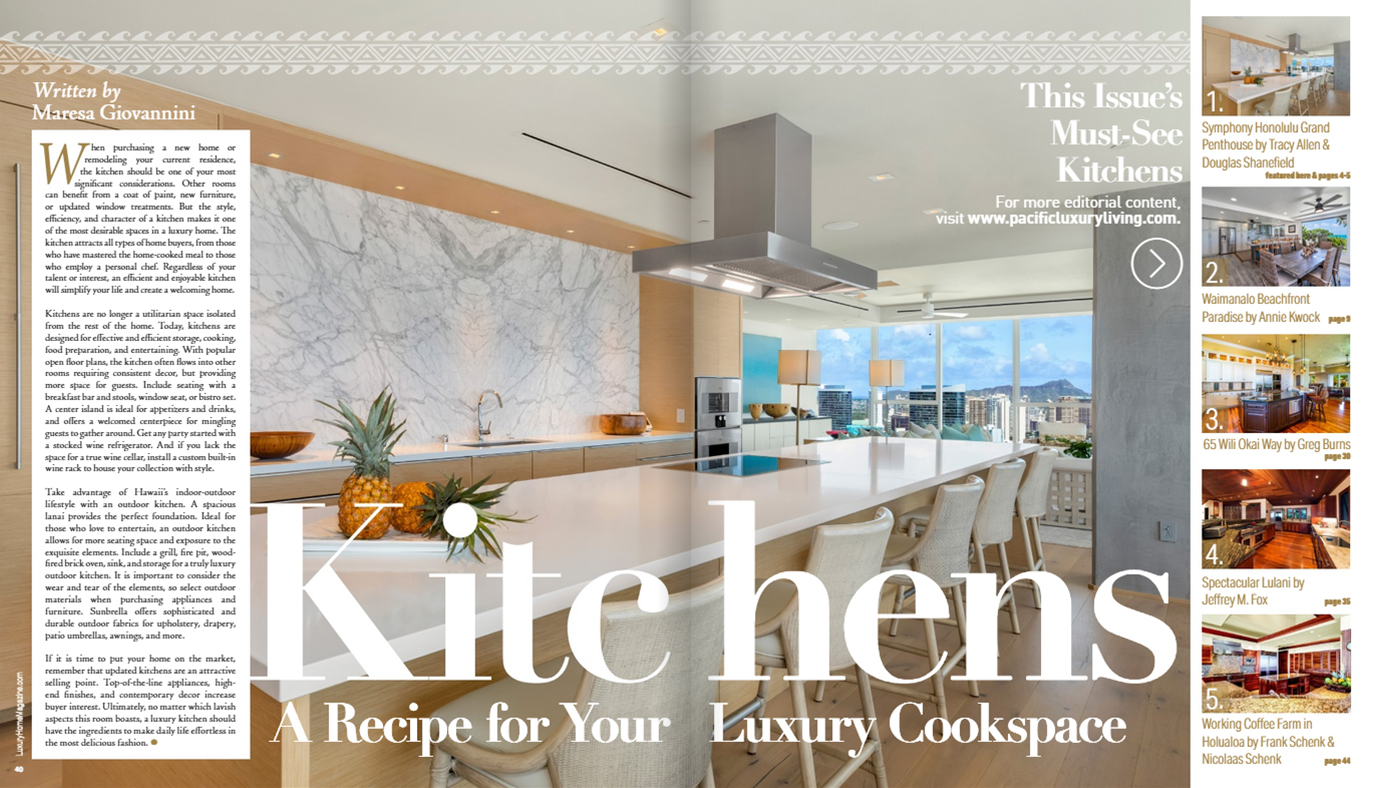 Read Article In Luxury Home Magazine
Kitchens are no longer a utilitarian space isolated from the rest of the home. Today, kitchens are designed for effective and efficient storage, cooking, food preparation, and entertaining. With popular open floor plans, the kitchen often Rows into other rooms requiring consistent decor, but providing more space for guests. Include seating with a breakfast bar and stools, window seat, or bistro set. A center island is ideal for appetizers and drinks, and offers a welcomed centerpiece for mingling guests to gather around. Get any party started with a stocked wine refrigerator. And if you lack the space for a true wine cellar, install a custom built-in wine rack to house your collection with style.
Take advantage of Hawaii's indoor-outdoor lifestyle with an outdoor kitchen. A spacious lanai provides the perfect foundation. Ideal for those who love to entertain, an outdoor kitchen allows for more seating space and exposure to the exquisite elements. Include a grill, fire pit, wood-I; red brick oven, sink, and storage for a truly luxury outdoor kitchen. It is important to consider the wear and tear of the elements, so select outdoor materials when purchasing appliances and furniture. Sunbrella offers sophisticated and durable outdoor fabrics for upholstery, drapery, patio umbrellas, awnings, and more
If it is time to put your home on the market, remember that updated kitchens are an attractive selling point. Top-of-the-line appliances, high-end finishes, and contemporary decor increase buyer interest. Ultimately, no matter which lavish aspects this room boasts, a luxury kitchen should have the ingredients to make daily life effortless in the most delicious fashion.