An Eye for Detail
Written by Maresa Giovannini
Thankfully, architectural styles are more enduring and the structure of a well-built home is always in fashion. Although architecture is a big-picture concept, it is composed of countless details to achieve the final spectacular product. If you would like to highlight the existing architectural details in your luxury home or incorporate additional accents, take note of the following tips and tricks.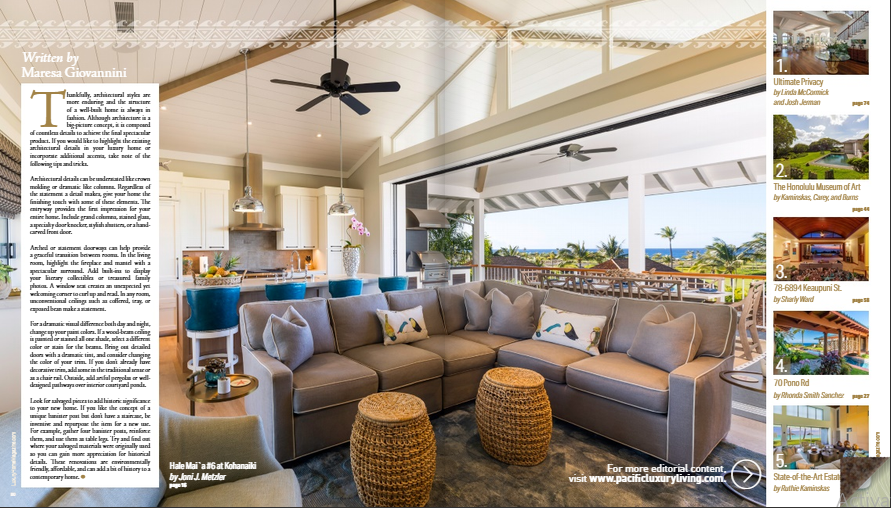 Read Article In Luxury Home Magazine
Architectural details can be understated like crown moulding or dramatic like columns. Regardless of the statement a detail makes, give your home the finishing touch with some of these elements. The entryway provides the first impression for your entire home. Include grand columns, stained glass, a speciality door knocker, stylish shutters, or a hand-carved front door.
Arched or statement doorways can help provide a graceful transition between rooms. In the living room, highlight the fireplace and mantel with a spectacular surround. Add built-ins to display your literary collectables or treasured family photos. A window seat creates an unexpected yet welcoming corner to curl up and read. In any room, unconventional ceilings such as a coffered, tray, or exposed bean make a statement.
For a dramatic visual difference both day and night, change up your paint colors. If a wood-beam ceiling is painted or stained all one shade, select a different color or stain for the beams. Bring out detailed doors with a dramatic tint, and consider changing the color of your trim. If you don't already have decorative trim, add some in the traditional sense or as a chair rail. Outside, add artful pergolas or well-designed pathways over interior courtyard ponds.
Look for salvaged pieces to add historic significance to your new home. If you like the concept of a unique bannister post but don't have a staircase, be inventive and repurpose the item for a new use. For example, gather four bannister posts, reinforce them, and use them as table legs. Try and find out where your salvaged materials were originally used so you can gain more appreciation for historical details. These renovations are environmentally friendly, affordable, and can add a bit of history to a contemporary home.