Alfresco Dining
Written by Maresa Giovannini
The gentle caress of the trade winds; the­ effervescent scent of plumeria; the sound of the Pacific Ocean waves crashing against volcanic rocks—this myriad of entertainment for the senses is unique to the island experience and one of the many reasons people long to live in Hawaii. So why live somewhere for natural beauty, just to spend all your time indoors?
The square footage of your main house is significant, but lanai space effectively extends your living spaces. Take advantage of year-round indoor-outdoor living by encouraging alfresco dining. From
morning to evening cocktails, there is always something to enjoy on the lanai..
It is important to consider the wear and tear of the elements, so select durable materials when purchasing furniture. Sunbrella offers sophisticated outdoor fabrics for upholstery, drapery, patio umbrellas, awnings, and more. For dishware, you can stick to melamine for safety, or set the table with fine china and glassware. Of course, you'll want to be mindful. But life is short—use the fancy dishes!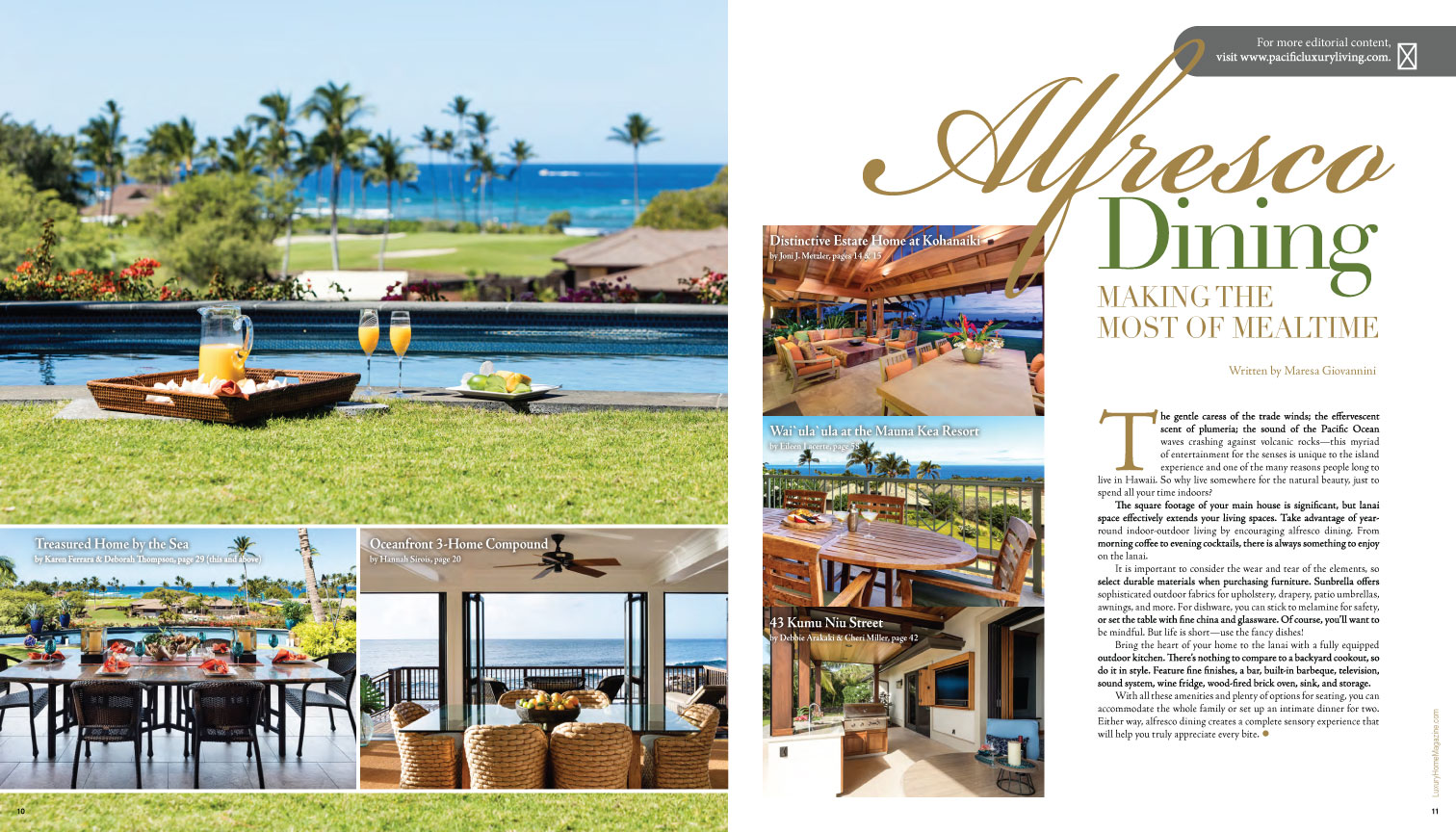 Read Article In Luxury Home Magazine
Bring the heart of your home to the lanai with a fully equipped outdoor kitchen. There's nothing to compare to a backyard cookout, so do it in style. Feature fine finishes, a bar, built-in barbeque, television, sound system, wine fridge, wood-‑ red brick oven, sink, and storage.
With all these amenities and plenty of options for seating, you can accommodate the whole family or set up an intimate dinner for two. Either way, alfresco dining creates a complete sensory experience that will help you truly appreciate every bite.